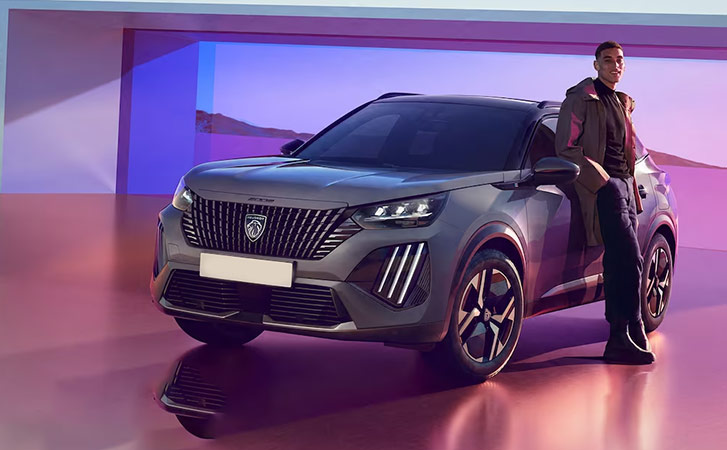 ADVANTAGES OF ALL-ELECTRIC
DRIVING PLEASURE
Experience a different kind of drive in 100% electric mode.
up to 248 mile range
A smoother drive without vibration
Immediate acceleration
Silent engine which offers a serene driving experience
0g / km of CO2 emissions
SAVINGS
Experience big savings on your motoring costs:
Energy cost is lower than fossil fuels
Low cost of use thanks to reduced maintenance
Use of ECO model
A NEW WAY TO TRAVEL
Enjoy a simplified driving experience in the e-2008 SUV.
Fast and intuitive charging
Freedom to drive in the city even those with emission restrictive zones
MyPeugeot app allows remote management of features including: pre-programmed heating, charging and checking charge level
DESIGN
The New PEUGEOT e-2008 SUV boasts the same powerful, fluid, and generous lines as the combustion versions, but adopts some exclusive and distinctive design features.
(1)According to version
POWERTRAIN
100% ELECTRIC MOTOR
The 100kW engine (156bhp) provides instant acceleration with its immediate engine torque of 260Nm, as well as the pleasure of flexible, dynamic, and silent driving(1).
(1)Take care when driving as other road users may not be accustomed to electric vehicles.  PEUGEOT e-2008 is fitted with an acoustic vehicle alerting system.
HIGH-PERFORMANCE BATTERY
The PEUGEOT e-2008 compact electric SUV contains a high capacity high voltage 54kWh battery, ingeniously installed to save space in the passenger compartment and boot.
It has a range of 248 miles WLTP(1), with zero CO2 whilst driving.
The electric car battery has an 8 year warranty or 100,000 miles for 70% of its charge capacity.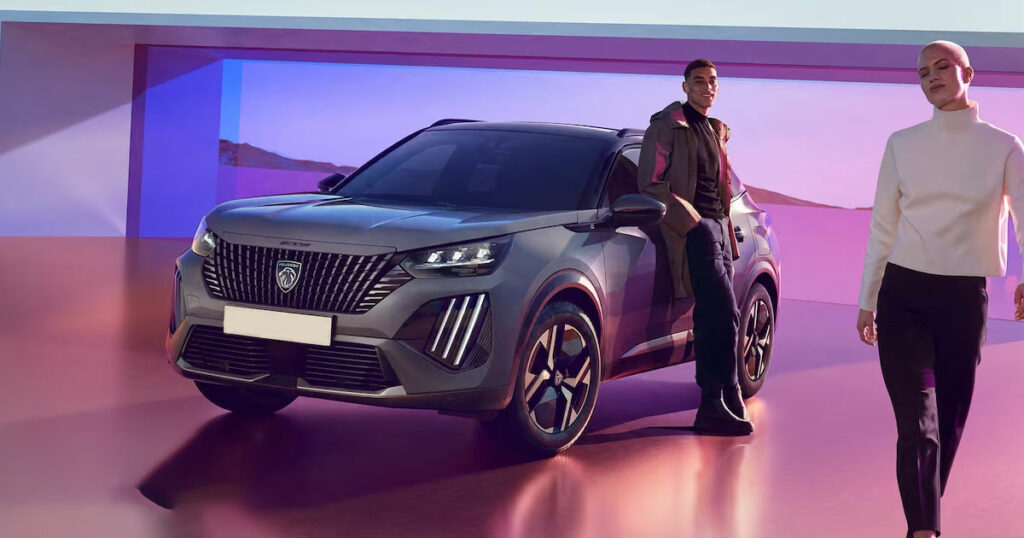 3 DRIVING MODES
The PEUGEOT e-2008 SUV offers three driving modes:
Sport: priority given to performance and driving sensations (0-60 in 8.5s)
Normal: optimum comfort for everyday use
Eco: range optimisation
2 BRAKING MODES
The 'Brake' mode (engine brake) limits use of the brake pedal while charging the battery as you decelerate. Two braking modes are accessible:
– moderate: for a feel similar to that of an internal combustion engine vehicle
– increased: for deceleration controlled by the accelerator pedal
To enjoy the full driving capability of the PEUGEOT e-2008 compact electric SUV and its 248 mile range WLTP(1), a number of charging options are available, at home or using public EV charging stations.
You can programme scheduled charging using the smart navigation screen or the MyPeugeot app(2). This system also lets you start charging at any time and check battery levels.
CHARGE FROM A DOMESTIC PLUG
The e-2008 SUV charges using a classic domestic plug in 24  hours for a complete charge. A cable must be purchased as an accessory to facilitate this activity.
ACCELERATED CHARGE AT HOME
Charge your e-2008 SUV more quickly and safely from a dedicated charging point which takes approximately 7.5 hours for a full charge.
RAPID CHARGING AT A PUBLIC TERMINAL
You can obtain 80% of the vehicle charge in 30 minutes** from a 100kW charging station. Rapid chargers can be found at most motorway service stations and are being progressively installed across the UK.
The PEUGEOT 3D i-Cockpit®* boasts intuitive ergonomics with its compact steering wheel, 10" HD capacitive colour touchscreen, and configurable 3D digital head-up display*.
The touchscreen displays all relevant information.
In addition to this, your primary electric driving data is projected onto the 3D digital head-up display as a hologram, so that it is always within the driver's field of vision:
Driving mode: Eco/Normal/Sport
Battery level
Animation of specific information illustrating the operation of the powertrain in real time.
*According to version
MYPEUGEOT APP
The MyPeugeot app lets you view the following information anywhere, anytime(1) :
Range
Vehicle charge progress and status
Fuel consumption statistics for your trips
Also remotely control certain vehicle functions directly from the app:
Scheduling and activating charging, especially to be able to use off-peak tariffs
Pre-programming of the heating/air condition in the passenger compartment
(1) Subject to having access to a mobile network. Only available on e-2008 SUV models.
ELECTRIC DRIVING FREQUENTLY ASKED QUESTIONS
What are the costs to charge an electric Peugeot?
This is fully dependent on where you charge and the cost of your electricity. Some public chargepoints are completely free, others have variable charges. Most customers install a chargepoint at their home.

Electricity is priced by kWh (kilowatt hour) – so for a full battery charge you multiply the price per kWh by the capacity of the battery (in the same way today you would multiply the price per gallon, by the fuel tank capacity. 

Average UK electricity cost (according to google) is 12.5p per kWh
Our new electric vehicles have a 50kW battery
So a full charge would cost 12.5p x 50 = £6.25. 

If you then drive the expected WLTP range of 217 miles, this equates to 2.8p per mile.

Many energy companies are now offering 'electric vehicle tariffs' where charging at certain times is cheaper. We make this easy for you to manage – from either the vehicle or your MyPeugeot app, you can programme the vehicle to start charging at a time convenient to you.  So plug in when you get home, but tell the car to not start drawing power until your off-peak rate kicks in!
If I don't have a driveway or garage, how can I charge my electric Peugeot?
If you do not have off street parking at your property then you cannot currently benefit from the government's Homecharge grant scheme, but there are still ways to charge your vehicle.

Workplace: the government also offers grants to workplaces installing charging points, so see if your company is interested in this. Our charging partner is Pod Point, so they can assist with your workplace needs, and can advise on the government workplace grant funding.  Find more information here: 

Public: there is a vast network of publicly available chargepoints across the country – and many of them are completely free to use. You can see details of all chargepoints available, and find out what's in your area here.

On Street Residential: central government has funding available to local councils for them to provide charging points for residents who have to park on the street. Some London boroughs have introduced lamppost charging already, and many other councils are working on solutions. Ask your council what's going on in your local area.
Aren't batteries expensive to replace?
We understand that customers are worried about the costs of batteries – so that's why we provide an exceptionally long traction battery warranty!  For the first 8 years or 100,000 miles your battery will be covered by a manufacturer's warranty, subject to our standard T&Cs, such as having your vehicle serviced at the right time. The warranty stays with the vehicle – so is fully transferable to a new owner, therefore also helping with the resale value and confidence a second owner can have in the vehicle.

The costs of batteries has also decreased very significantly over the past 8 years, and will continue to do so.  This is partly due to reducing costs of raw materials as electric vehicles become more popular and volume increases, but also because 'second life' uses of batteries mean they don't just need to be recycled (at cost to the manufacturer) but can be re-purposed for uses such energy storage.
Does the electric battery degrade with age?
Some battery degradation is expected, however this is minimal. From a warranty perspective, we cover the vehicle to 70% of its original capacity over 8 years. This is significantly better that the UK government Plug In Grant requirement of 70% over 5 years, so shows clear confidence in our battery performance and longevity. Battery reconditioning is also an evolving area, where faulty cells can be replaced rather than a battery being scrapped. 

Can I rent my battery?
No – Peugeot do not offer battery rental. The battery is included in the price of the vehicle, but you can have the full confidence of an 8 year, 100,000 miles warranty.
Is there really a cost saving to buying electric?
Electric vehicles are more expensive to buy initially, however the running costs are much lower, and there are tax benefits and other incentives – so for many usage cycles this balances out over the period of ownership of the vehicle. We therefore encourage all customers to assess the Total Cost of Ownership of vehicles, rather than initial purchase price.
What charging plugs are used in electric Peugeots?
Our new generation electric vehicles are equipped with CCS (Combined Charging System) sockets, so they can be charged from a standard Type 2 chargepoint, a domestic plug socket, or a public rapid charger. 

Our plug-in hybrids have Type 2 sockets – as they don't need to be rapid charged.

Our older electric vehicles, including Peugeot Partner have Type 1 & CHAdeMO connectors.
Can I charge my electric or plug-hybrid Peugeot at Charters?
Yes. We have two charging stations at our Aldershot showroom for use and we welcome Peugeot drivers from around the UK to use them as they see fit.
Book a Test Drive
For the Peugeot New 2008 SUV
Sales Location
251 Ash Road
Aldershot
,
Hampshire
GU12 4DD
Phone:

01252 939 307
| | |
| --- | --- |
| Monday | 8:30 AM - 5:00 PM |
| Tuesday | 8:30 AM - 5:00 PM |
| Wednesday | 8:30 AM - 5:00 PM |
| Thursday | 8:30 AM - 5:00 PM |
| Friday | 8:30 AM - 5:00 PM |
| Saturday | 8:30 AM - 5:00 PM |
| Sunday | Closed |
Serving Aldershot, Camberley, Guildford, Woking & the surrounding area with new and used Peugeots