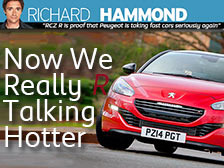 Richard Hammond reviews Peugeot RCZ-R
Known for his outrageous antics on the set of Top Gear, Richard Hammond has become a dominant force in reviews of powerful sports cars across the globe. When you have driven a Bugatti Veyron or a Pagani Zonda is there anything that can turn your head?
Well, yes: the Peugeot RCZ-R! Built with Peugeot's most powerful production engine to date: a 266bhp 1.6 litre block. This surprisingly torquey car brings you from 0-60 in 6.8 seconds and has surprisingly high economy for a car with so much POWER! 36.4mpg on a combined cycle means the RCZ-R is fun, powerful and affordable.
With a Torsen Limited Slip Differential and, custom wheels which are wider and offer more grip, the RCZR sticks to the road like glue….and the exhaust note…well, in Richard Hammond's own words: "that special exhaust. The R sounds as good as it looks".
"Hot hatches with similar power just don't look as good as this"
He concluded his article (in the Daily Mirror) by sharing words of wisdom for the future: "RCZ-R is proof Peugeot is taking fast cars seriously again". Here's hoping for an announcement that that 308R is being put into production!
The Peugeot RCZR is not only Peugeot's most powerful car but simply one of the best. It is our flagship's flagship and with a Striking white model in our showroom, it's about time you came and tried this wolf of a car, dressed as beautifully as a swan!
Call us today to book your test drive in a new RCZ-R. The web form above can be used to book a test drive, request a call back, order a brochure and much more. If you have a question, then call us or contact us. For a more immediate response, ring us on
0844 247 0815
We developed a website dedicated to the beauty and power of RCZR. Find it here and drive the car that you've been dreaming about. The car that looks as good as it drives.
General Enquiry
For the Peugeot RCZ-R
Sales Location
251 Ash Road
Aldershot
,
Hampshire
GU12 4DD
Phone:

01252 939 307
| | |
| --- | --- |
| Monday | 8:30 AM - 5:00 PM |
| Tuesday | 8:30 AM - 5:00 PM |
| Wednesday | 8:30 AM - 5:00 PM |
| Thursday | 8:30 AM - 5:00 PM |
| Friday | 8:30 AM - 5:00 PM |
| Saturday | 8:30 AM - 5:00 PM |
| Sunday | Closed |
Serving Aldershot, Camberley, Guildford, Woking & the surrounding area with new and used Peugeots