New Peugeot 408 coming 2023
Hot on the heels of the launch of the Peugeot 308 and 308 SW estate, comes the news that the New 408 is coming and is already making waves. Built upon the same EMP2 chassis that the 308 and 308 SW sit on, the New 408 brings a taller, SUV stance, more space whilst retaining the usefulness of a hatchback.
The fastback design of the New 408 provides ample load-space (up to 1,611 litres when the seats are folder) as well as greater leg-space in the rear for passengers.
Being a modern Peugeot, some incredible features and functions are included as standard such as the iconic Peugeot i-Cockpit (almost identical to that in the 308 range). This offers a clean and clutter-free cockpit, keeps a small steering wheel for you to look over and view the digital instrument cluster with ease. This steering wheel also gives a sportier feel to the drive with excellent manoeuvrability despite the New 408's size.
What Powertrains will be available in New Peugeot 408?
As always, Peugeot offers the benefit of choice to their customers. Drivers can opt for a petrol PureTech 130 version, two hybrid models (180 or 225 hp) and coming after launch, an all-electric variant. All variants will come with an eight-speed EAT8 automatic gearbox for the most efficient and smoothest gear changes.
What safety features are available on the Peugeot 408?
Six cameras around the vehicle, along with nine radars, provide a multitude of advanced driver systems well above what you would expect from a vehicle in this category. These will provide drivers with:
Adaptive Cruise control with Stop & Go function
Night Vision
Long-range blind-spot monitoring up to 75 metres
Rear Traffic Alert, which warns of potential hazards when reversing.
360-degree parking assistance with four high-definition cameras
Semi-automatic lane change, allowing the driver to overtake vehicles and return to original lane position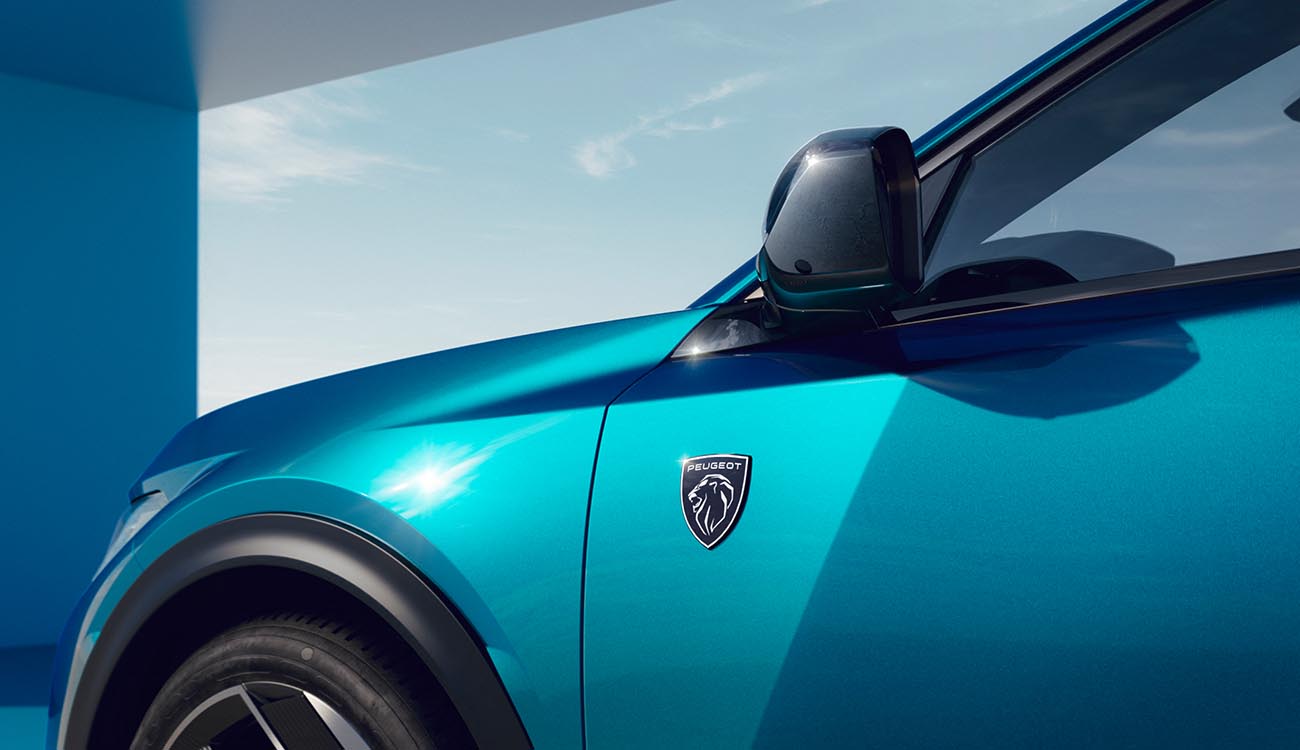 These features are added to the suite of 24 other safety functions that make the New 408 stand out from the crowd. For the safest driving experience around, choose New 408.

The adaptive cruise control brings a level of AutoPilot controls to the New 408 which means that motorway journeys needn't be as stressful. Your car ensures you speed up, slows down or stops as required and with the Drive Assist 2.0 Package, changing lanes is a breeze as well. You'll eat up the miles in your New 408.
When is the New Peugeot 408 coming to the UK?
No official date has been announced as of yet but the New Peugeot 408 will arrive during 2023, with an all-electric variant coming nearly a year later.

How much will the New Peugeot 408 cost in the UK?
Prices have not yet been confirmed for the New Peugeot 408 and will be announced nearer the time. Check back to this page for more information in the weeks coming.
What colours are available in the Peugeot 408?
Obsession Blue (the launch photos of the New 408 showcases this brand-new colour)
Titanium Grey
Cumulus Grey
Elixir Red
Pearl White
Nera Black
What charge time can I expect from the hybrid New 408s?
You can opt for the standard onboard single-phase charger (3.7kW or an optional 7.4 kW single-phase charger). Depending on which one you choose (along with your Wall Box), this will alter your charge times. However, as a guide:
Standard 3.7kW Charging: fully charged in 3 hours 50 minutes
Optional 7.4 kW Charging: fully charged in 1 hour 55 minutes
Both times above are measure by charging your vehicle from a standard 7.4kW Wall Box (32A).
New 408 has launched at Charters and you can now book a test drive using the form below.
More news on the New 408 will be coming soon so check back and discover the future of Peugeot, here at Charters. For more information on the 308 range, which has now launched at Charters, come and see us in Aldershot. We'll be happy to walk you around the new features and functions you can expect from the New 408 as well as the hybrid powertrains or safety features.
Book a Test Drive
For the Peugeot New 408
Sales Location
251 Ash Road
Aldershot
,
Hampshire
GU12 4DD
Phone:

01252 939 307
| | |
| --- | --- |
| Monday | 8:30 AM - 5:00 PM |
| Tuesday | 8:30 AM - 5:00 PM |
| Wednesday | 8:30 AM - 5:00 PM |
| Thursday | 8:30 AM - 5:00 PM |
| Friday | 8:30 AM - 5:00 PM |
| Saturday | 8:30 AM - 5:00 PM |
| Sunday | Closed |
Serving Aldershot, Camberley, Guildford, Woking & the surrounding area with new and used Peugeots