Is it worth buying an electric van?
With the recent fuel shortages across the UK, it may be the right time to consider whether it is worth buying an all-electric van for your business. Today, we focus on the all-electric commercial range from Peugeot and how they could benefit your business and keep you on the roads whilst the rest of us queue at the petrol station.
Charters Peugeot Aldershot sell three main all-electric vans (with many variants and sizes): Peugeot e-Partner, e-Expert and e-Boxer. Each of these models represent the best commercials on the roads today (winning many international awards). No compromises are made on space, comfort and payload. Towing abilities are exceptional whether you choose a combustion or all-electric van.
ARE THERE ANY GOVERNMENT GRANTS?
At the time that this article is written, the UK government offers financial incentives to change your fleet to all-electric. e-Partner is offered with a grant up to £2500 of the purchase price. E-Expert and E-Boxer are offered with a grant up to £5,000. These will help bring the initial cost of your all-electric commercial down. Prices are generally quoted with these plug-in grants applied.
WHAT ABOUT RUNNING COSTS?
Running costs are where the all-electric Peugeot van range come into their own. Your electric vehicle can manage up to: 139,171 or 205 miles of range (dependant on model and variant).
With each all-electric vehicle, we offer a 6-month BP Pulse subscription. This enables you to benefit from the best prices for on-the-road charging stations. You'll replenish your charge quicker (with fast chargers) and they'll be more affordable than you're used to. Using a fast charger, you can be on the road again with a full charge for less than a cup of coffee (charged at 27p per KWh). Compare that to your current van (with a fill-up being between £60-£150) and you'll understand how affordable these vehicles can be.
Using the extremely helpful Home Charge comparison tool, we can determine that if you were to only charge your vehicle at your business base and used your van 1000 miles every week (52,000 miles a year), it would cost you:
ALL-ELECTRIC COSTS
from £636 a year for e-Partner*
from £816 a year for e-Expert*
from £1186 a year for e-Boxer*
*These prices have been compared directly on the EDF GoElectric 35 tariff. More details can be found here.
DIESEL COSTS
from £5,026 a year for Peugeot Partner**
from £6,287 a year for Peugeot Expert**
from £8,086 a year for Peugeot Boxer**
**These prices have been based upon the highest WLTP economy figures available for all models. Based on £1.40 per litre diesel price (approximately £6.36 per imperial gallon).
That's a massive saving on each Peugeot all-electric van over their combustion equivalents.
WHAT ABOUT THE LIMITED RANGE?
This is where many people show concern and whilst WLTP statistics are helpful in comparing vehicles, it is not always completely accurate in your daily use. Below you'll find the WLTP results for each of our commercial vehicles. Your range will vary on a variety of factors but you will easily get over 100 miles with most models you choose. Our team can advise you on real-world economy.
This makes the current generation of all-electric vans more useful to local businesses than national ones. A realistic measure of whether an all-electric Peugeot van can manage your business needs is to realistically establish how many miles your current vehicle has travelled over the past year. For most of us, a 100-200 mile range per day is plenty to achieve your deliveries and this is where all-electric savings can really add up. For those wishing to travel further, many of our vehicles can be charged to 80% in just 30 minutes, so you can grab a coffee or lunch and be ready for the road before you know it.
WHAT ALL-ELECTRIC VANS CAN I BUY?
Below you'll find details on each of our models; their range, payload and charging time. Starting with the multi award-winning e-Partner.
From your smartphone, you can remotely control and schedule a number of functions, such as battery charging and pre-programming the heating in
the interior.
Discover a quieter, more comfortable drive with Peugeot e-Partner. Silent electric running means for a more peaceful days work. Sharp acceleration from the electric engine brings a dynamic drive to the model.
0g/km of CO2 means it's better for the environment and all-electric power means it's better for your pocket. Low maintenance costs and "refuelling" costs mean you'll be saving more than you'd expect with e-Partner.
The e-Partner can be rapidly recharged to 80% in just 30 minutes using a 100Kw charger (available UK wide). Your impressive range can be improved even further with just a quick cup of coffee or lunch break.
This model has won countless awards over the years with "Best Small Van 2021" being the most recent accolade from Parkers. With clever technology including the iconic i-Cockpit and overload indicator, the Peugeot e-Partner proves to be one of the best delivery vehicles on the planet.
PEUGEOT E-EXPERT
Surprisingly the e-Expert provides a nearly identical driving experience to the multi award-winning combustion variant. Expect comfort, space and the versatility you would expect from Peugeot Expert.
You can save thousands of pounds per year in comparison to the combustion variant. Being an Expert means it's tougher than you would expect and as flexible as you require.
With 1 lead and 30 minutes of your time, the Peugeot e-Expert will be ready for the road again. 80% of charge can be achieved in this time and you'll be passing petrol stations laughing at those of us who have to queue.
AN UNCOMPROMISING LOADSPACE
An identical loadspace awaits you (to the combustion variant). Carry up to 1,266kg and tow up to 1,000kg. The e-Expert is ready to be put through its paces.
Winning a recent award for the "Best Electrified Van 2021" by Parkers is just the cherry on the top of a rather impressive accolade cake. It has received "Medium Van of the Year" several years running from publications such as WhatVan? and Trade Van Driver.
PEUGEOT E-BOXER
Choose the L2H2, L3H2 or L4H2 depending on your requirements. The e-Boxer is as flexible as your business needs to be.
Expect a quieter drive than you're used to and smoother ride with all-electric e-Boxer. Fitted with an electronic automatic transmission, there is nothing like spending your working day in e-Boxer.
A UNIQUE REAR VIEW MIRROR
The e-Boxer's rear view mirror contains important information regarding charge levels, battery range and more, ensuring you have the data you need at a glance.
With 3 body shapes and a volume capacity from 11.5 to 15m3 (with the batteries pre-installed), there is no compromise made to your loadspace in e-Boxer.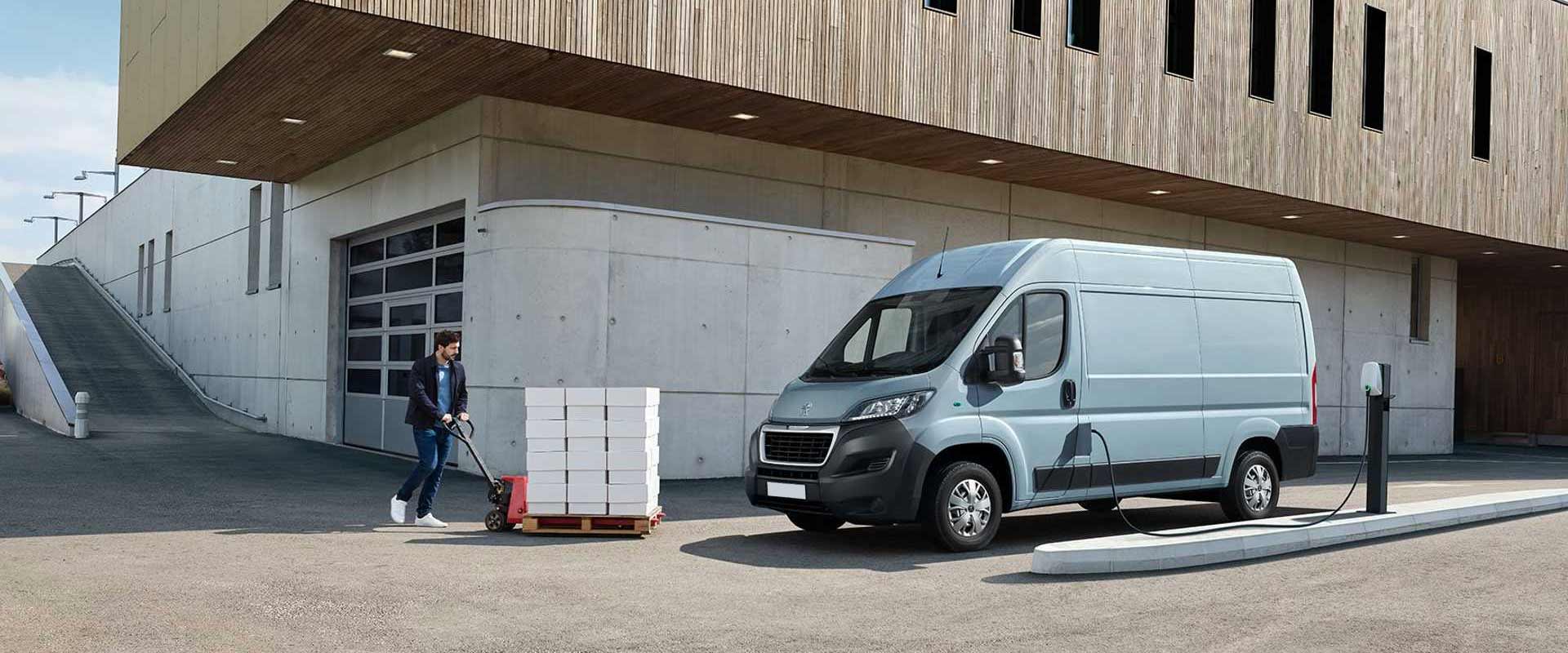 The iconic and versatile e-Boxer is ready for business. The large loadspace and big range mean that you can carry the weight needed in comfort, style and with ease.
IN CONCLUSION
If you're a business that requires big savings, low maintenance costs and regularly have a mileage of 100-200 miles a day then there is no reason why you can't take advantage of all-electric Peugeot vans. Whilst the initial cost is higher than the combustion equivalent, a plug-in van grant can be applied to bring down the cost, maintenance is cheaper (less moving parts) and economy is incredible. Going greener can save small businesses big in the long run and with the tax incentives of including all-electric vehicles in your fleet, it's about time you discovered our multi award-winning electric range of vans at Charters of Aldershot.
Business Enquiry
For the Peugeot Partner
Sales Location
251 Ash Road
Aldershot
,
Hampshire
GU12 4DD
Phone:

01252 939 307
| | |
| --- | --- |
| Monday | 8:30 AM - 5:00 PM |
| Tuesday | 8:30 AM - 5:00 PM |
| Wednesday | 8:30 AM - 5:00 PM |
| Thursday | 8:30 AM - 5:00 PM |
| Friday | 8:30 AM - 5:00 PM |
| Saturday | 8:30 AM - 5:00 PM |
| Sunday | Closed |
Serving Aldershot, Camberley, Guildford, Woking & the surrounding area with new and used Peugeots